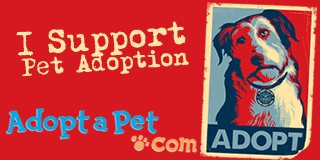 Click on the icon to read about promoting shelter adoptions!
By all reports, the Adoptathon in Joplin exceeded everyone's expectations. Hundreds of potential adoptive families jammed the streets and stood in lines waiting to visit the animals. It appears that nearly all of the available dogs and cats were adopted. You could call the event a real miracle.
The news made me happy, yet kind of sad, too.
After Hurricane Katrina, a similar frenzy to adopt displaced animals occurred. If a shelter let the public know they had Katrina animals, an abundance of people would appear, each clamoring to take one home.
But most critters don't come into shelters as a result of a monumental disaster. They arrive as strays, or after being abandoned by a family who had to move without them, or who had a child that developed allergies. Or they got too big, too old, or too sick. Although circumstances vary, each animal has a story that could break your heart as much as any highly publicized case. But they all need the same thing...a loving home.
You didn't see me on television
or read about my plight in the news
because I'm just an ordinary animal
watching with nose pressed against a kennel door
waiting for someone who'll look at my face
and somehow understand that
if you give me half a chance to show you
our future will be guaranteed.
I'll live in your heart forever,
you'll be one less person who's in need.
Belonging to a family is better than waiting in a shelter. Please don't forget the thousands of animals who still await a miracle.